Super indulgent – definitely! But there we are – someone has to keep up the hedonistic traditions – if only in a fairly mild-ish way; such was our day out last Thursday in the region of Beaujolais. In my head, I always think of 'Beaujolais' as a word-picture – one that exactly describes the countryside hereabouts. And while it all might seem too, too over the top, we were here in the village of St. Amour Bellevue, and planning to eat our lunch at the 'Auberge du Paradis'! I am reminded of the city of Sybaris, where the Ancient Greeks were known to have indulged in opulent luxury and outrageous pleasure. We weren't quite up for that, too demanding at our age, though I like to think that I still have exacting standards. I do love the story of the Sybarite, lying on his bed of rose petals and unable to get to sleep because one of them was folded over. How I want that to be me!
Our rather less extravagant excess was to eat lunch in the village and then go to our favourite growers in St. Amour, la famille Duc, to buy a selection of their wines to take back to the UK. It needed but little pre-planning: a call to Ducs to let them know we were coming and another to 'Josephine, la table' to book our lunch. Sorted.
St.Amour is the nearest 'named' Beaujolais village to where we live in Burgundy. Here grows the Gamay grape which has a soft and slightly southern feel. Among the 'named' villages that produce exceptional wines are some of our favourites: St. Amour, Chénas, Fleurie and Morgon; the names roll off the tongue. The wine region of Beaujolais begins just beyond Mâcon, little more than twenty minutes drive from La Truchère, the village where we live, and St Amour is the nearest of the 'named' villages that one comes to. As a place it remains, essentially, unchanged; looking at postcards showing the village at the turn of the 19th century, the only difference is that the once empty centre is now full of parked cars. But why should it change? The lives and livelihoods of the people there continue on from day-to-day in much the same way that they have always done. They grow grapes and make wine, and have been doing so, more or less, for many generations.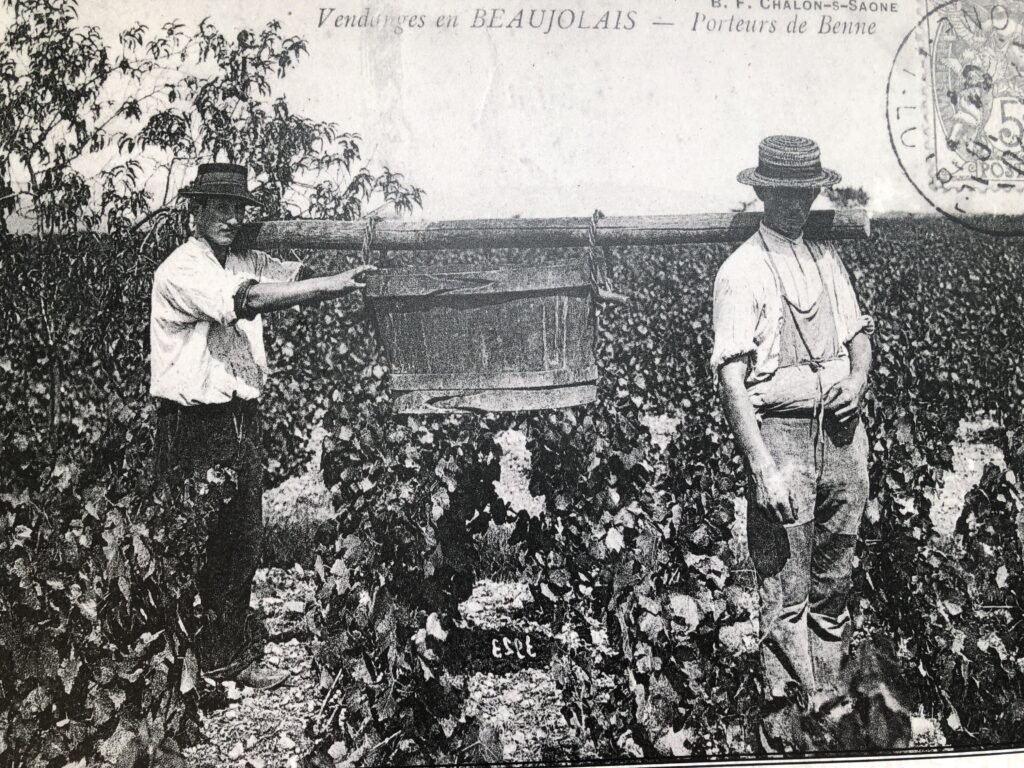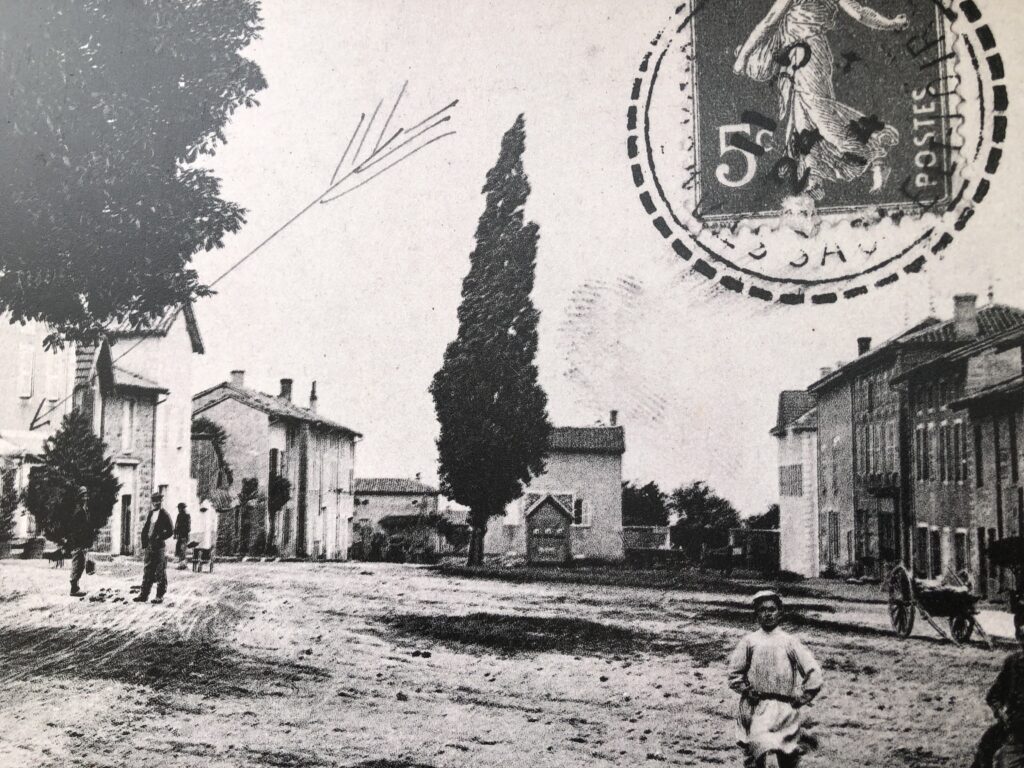 Today, this tiny village boasts three restaurants and a hotel. That surely tells you something about the quality of its wine. The restaurant across the road has a Michelin star and is rumoured to be good. A bit pricey for us, and anyway we have our sights set on much more engaging places on this side of the village square. Here, is the hotel – Auberge du Paradis – it has been here forever though whether it always boasted such a fanciful name I couldn't say. Within the hotel is one of the most idiosyncratic restaurants I have ever been to. Named by Cyril, the owner chef of the Auberge, in honour of his 'orrible dog, it is called 'Lucienne Fait des Siennes'. The interior of the restaurant is, to say the least, idiosyncratic, though not sufficiently weird to send you straight back out into the street. It's bright and colourful, full of eclectic purchases from local flea markets, and with walls adorned with large studio portraits of little Lucienne. There's plenty to look at and once seated, the interior does sort of grow on one!
And the food? Again, definitely different. Lunch comes on a wooden platter, a mix of seven or eight small savoury dishes, some warm, some cold, all delicious. The server advises the order in which the chef would like them eaten. We pick and choose, tasting from this dish and then that – probably not what chef wants, but fun anyway. The dog, Lucienne, an elderly and overweight Jack Russell, puts in an early appearance, going from table to table, greeting the customers like a celebrity chef who has left his kitchen for a moment in order to receive the accolades of his diners. I whisper to Tam not to kick him when he gets to us. I think Lucienne gets the message as he gives us short shrift, passing quickly along to other, more adoring customers. Later, Cyril does come to our table for a chat. He is a dedicated chef producing interesting food but unlike the Michelin starred place across the road, he wants to reach a wider audience. To this end, the tasting dishes are designed to show off his skill but costed to keep the price relatively low. The plancha sells at 28 euros; with a glass of local wine, a small dessert and coffee to finish, lunch is very affordable. We loved it and will be going back sometime soon (in spite of the little fella).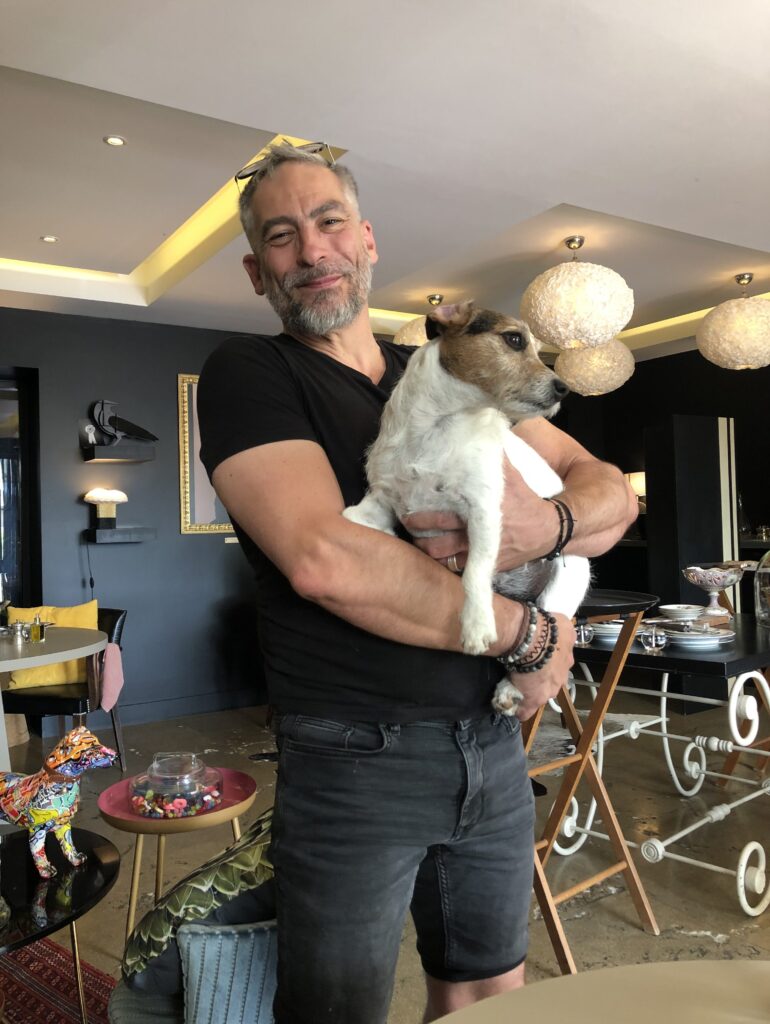 As it happens, on this particular day we were planning to eat at the third eating place in St. Amour, the bistro named, 'Josephine à Table'. Here, one can taste a huge range of Beaujolais wines along with a menu of light-ish snacks. It is still a wine bar, in principal, with a seriously impressive wine list but has morphed, since it has been open, into a place where the set lunch or evening meal attracts as many fans as the wine. The chef is intelligent, the food is family style, cheap and delicious; the setting attractive though still displaying the family trait of distinctive eccentricity. Josephine, it turns out, is Cyril's sister and, lo and behold, here's Lucienne too, who seemingly has the run of both restaurants. It was a lovely, simple meal, washed down with a glass or two of the very best St. Amour. I had duck breast with a purée of Jerusalem artichokes and Tam, the oeufs meurette, a tasty Burgundian dish of eggs and bacon cooked in red wine. Each was followed by a good pud – the two courses an absolute bargain at 20 euros. We eventually left Josephine feeling happily replete (us, not her) and headed off down the road to the Duc's vineyard.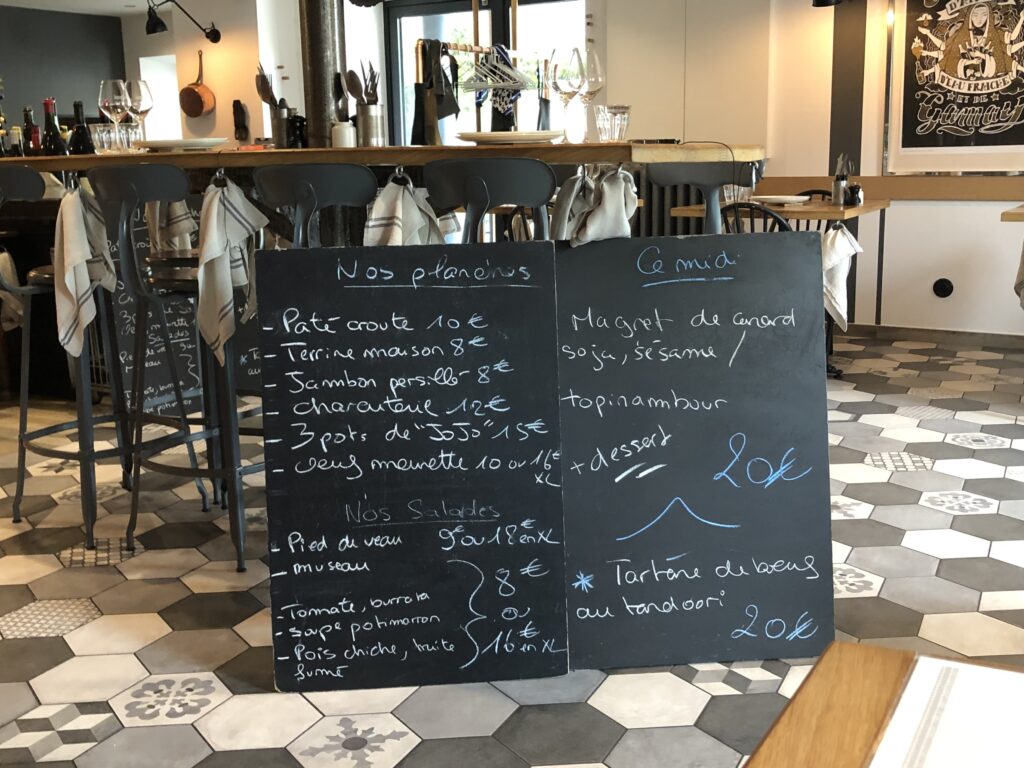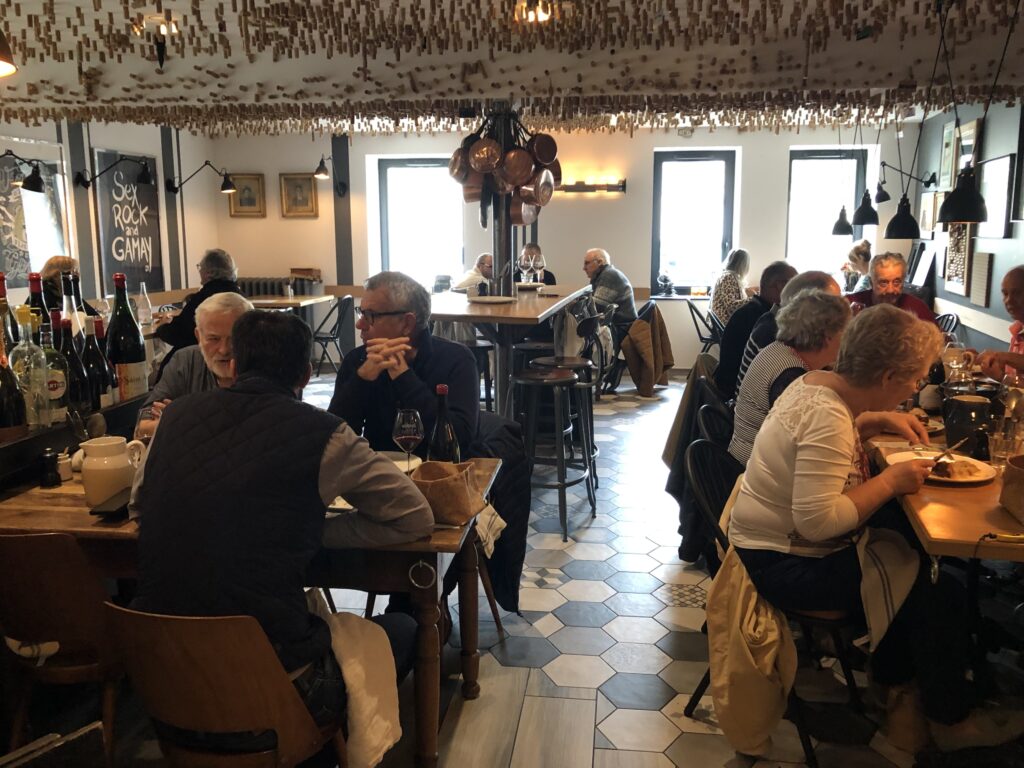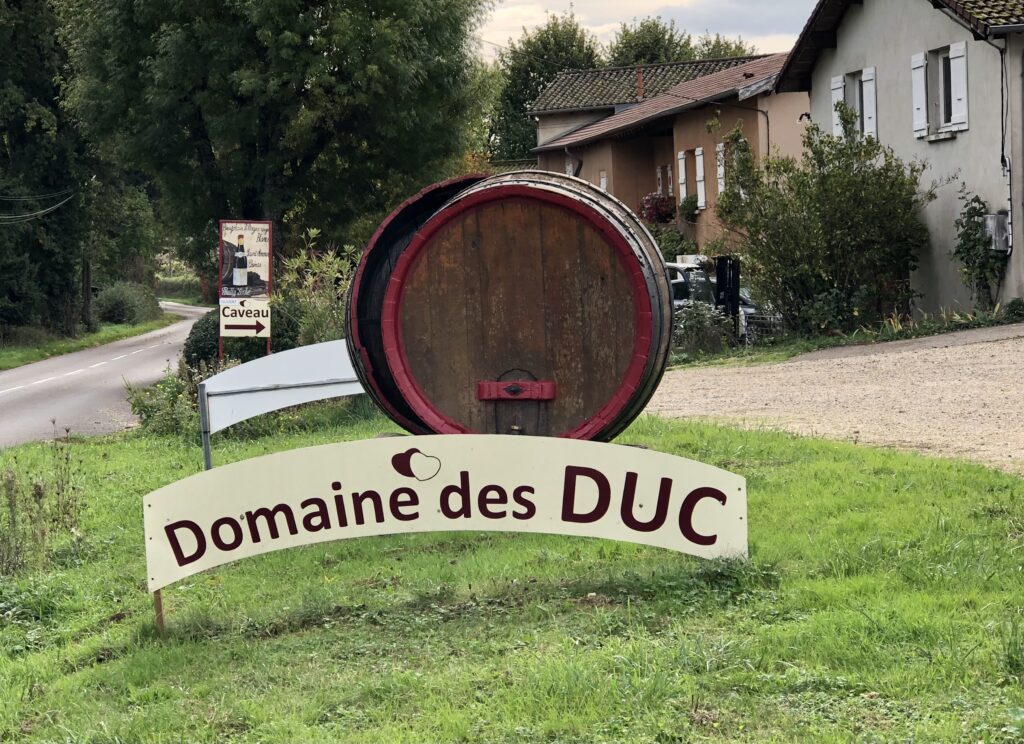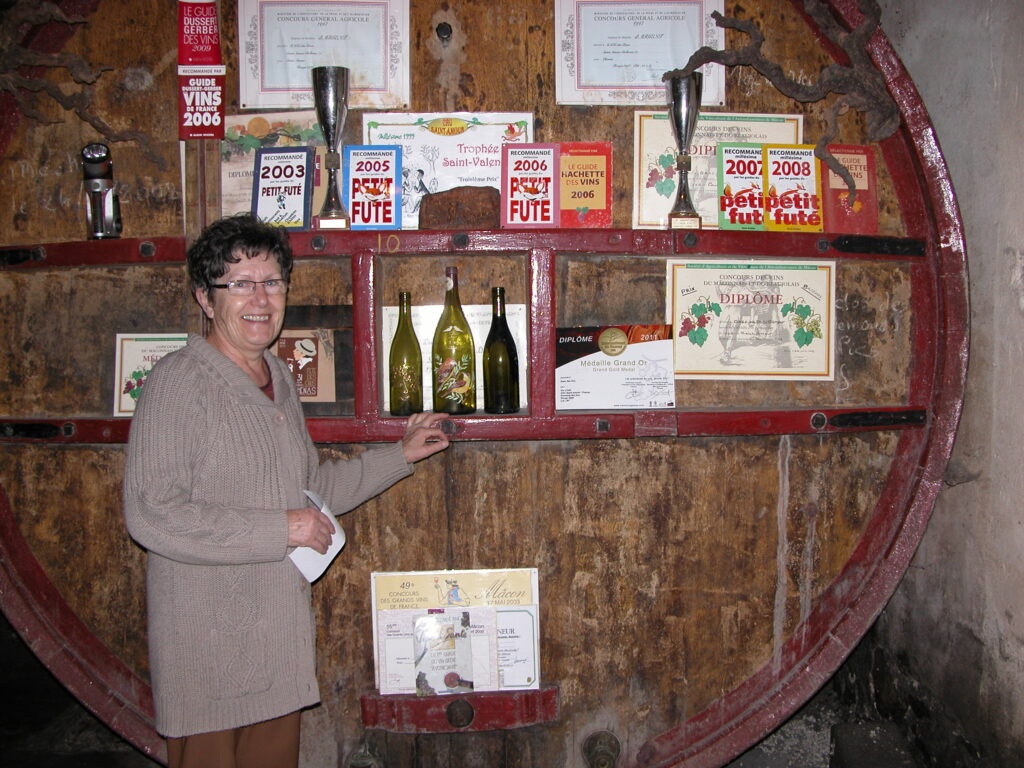 We have been coming here for some years though the family has been here for more than six generations. With fourteen hectares of vines overseen by her sons, Laurent and Pascal, they are always busy but Mme. Duc is usually to be found somewhere around the place. The family home is nothing much to look at – no chateau vineyard this. Indeed, it's all a bit scruffy – a nondescript house, a few sheds and somewhere to park. I've never seen a cellar although the tasting room is cold and dark and a little dank. We find Mme. Duc and say we have a list, we know what we want to buy, but Mme Duc is determined that we should also try their latest vintages. The family own vines in St. Amour and Chénas; each place has a distinctive terroir and the Ducs make great, award-winning wines. Our favourite, and the one we have come for, hoping they still have some bottles left, is their 2015 St. Amour. Old now for a simple Beaujolais but, as it happens, 2015 was, weatherwise, a special year with an abundant harvest that has produced, for this region, unusually long lived wines. We have come too, for 'Les Capitans', a wine made from a small patch of old vines in the St. Amour vineyard and very special; also some cases of their great Chénas. We taste the selection of more recent vintages that Madame insists we try and Tam consults his list. As ever, it is expanded to include one or two more cases. Once loaded and in the car, Mme Duc presses several more bottles upon us as 'un cadeau'. We drive home, car heavy with Beaujolais wines, content.
Definitely, my kind of day.
Auberge du ParadisLe Plâtre-Durand71570 Saint-Amour-Bellevue
Tél. 03 85 37 10 [email protected]
[email protected]
https://aubergeduparadis.fr/
https://www.facebook.com/josephineatable/
Domaine des Duc, La Piat, 71570, Saint-Amour-Bellevue Tél: 03 85 37 10 08 [email protected]